JUST WHISTLE - "Bacall" aka "Lakota" (11-24-89 to 1999)

---


Bacall

aka
Lakota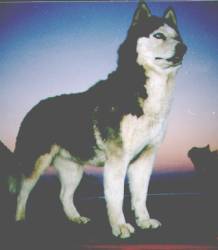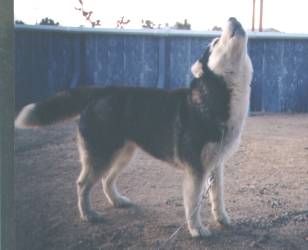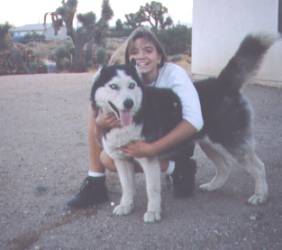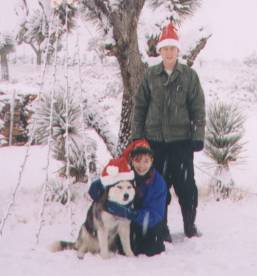 Lakota, Sara & Adam 12-23-95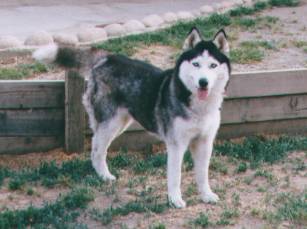 Lakota comes to visit her roots at Karamad
| | |
| --- | --- |
| OFA# SH-9409E25F | SHOR# S-6108 |
Bacall and I shared so many firsts. She was the first Siberian I ever put points on. She was the first one I ever put a major on, and my first winner from the bred by class. She was also the first dog I was ever measured in the ring with and that happened a lot as Bacall just fit under the wicket at 21 3/4" tall !! She was a beautiful moving bitch with fluid, lateral movement. She was a real show stopper and helped me build the confidence I needed in the ring. She knew it all and all I had to do was follow her lead to the winner's ribbons. She also produced the first (and only) pie bald I had, CH Spotti !! What a surprise that was.
Like so many firsts that Bacall and I shared, we also shared my first experience with a co-ownership gone bad !! She fell victim to this and she was taken from me. She was used as a pawn and I was forced to surrender her in order to get other co-owned dogs signed off. She was then bred and later sold to a guy in Colorado. When he went to prison, I heard "through the grapevine" that Bacall came back to California and was spayed and placed in a pet home.
Some time later, I got a call from Tattoo-A-Pet saying that they had found my dog and and they wanted to know why had I not reported it gone. It seems the other parties never bothered to transfer ownership on the tattoo number and Tattoo-A-Pet still had my information. You can imagine what a surprise that was. After some explaining, they gave me the name and number of the people that had Bacall. This wonderful family, The Debritos, told me they had found her many months earlier running the streets in the high deserts of California. They had posted flyers and run adds in the newspaper looking for her owners but nobody responded. They had named her Lakota. It was only many months later, and after a coat blow that they had found the tattoo number during one of Lakota's favorite "belly rubs". These folks had taken her in and made her part of their family. They brought Lakota up to my house to visit. It was apparent she was in a wonderful home. They even came up later and selected a buddy for Lakota and named her Cheyenne. Lakota was one lucky girl to be rescued by the Debrito's.
Lakota crossed over the Rainbow Bridge quietly one afternoon while sleeping in her favorite spot in the back yard. She is sadly missed by her human and K-9 friends.
Thank you Vicki, Craig, Adam and Sara for providing such a wonderful home for both the girls and for making Lakota's final years happy and permanent.


THE RAINBOW BRIDGE
There is a bridge connecting Heaven and Earth. It is called the Rainbow
Bridge because of it's many colors. Just this side of the Rainbow Bridge
there is a land of meadows, hills and valleys with lush, green grass.
When a beloved pet dies, the pet goes to this place. There is
always food and water. The old and frail animals are young again. Those
who are maimed are made whole again. They play all day with each other.
There is only one thing missing. They are not with their special
persons who loved them on earth. So each day they run and play until the
day comes when one suddenly stops and looks up! The nose twitches! The
ears are up! The eyes are staring! And this one suddenly runs from the group!
You have been seen, and when you and your special friend meet, you
take him or her in your arms and embrace. Your face is kissed again and
again and again, and you look once more into the eyes of your trusting pet.
Then you cross the Rainbow Bridge together, never again to be separated.
We miss you Lakota !!
        


Return to Top of page

Return to Portrait Studio

E-mail us!

Back to KARAMAD Siberians Home Page