LAKMAT'S KUZN BALKI O' KARAMAD- "Bo"

---
---
November 27, 1987 to July 18, 2002

Bred by Carolyn & Goody Warren
Owned by Sherri Del Pozo & Carolyn Warren - Lakmat
Companion forever to Kim Del Pozo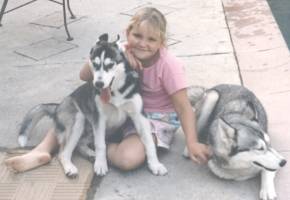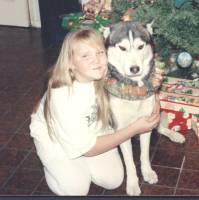 Bo & Kim Christmas 1988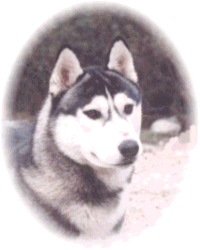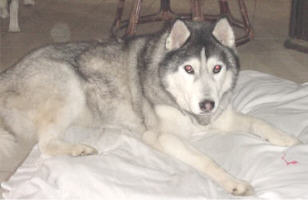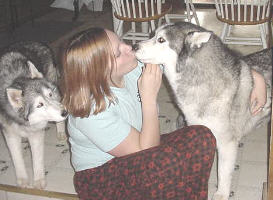 Bo at age 14 Misty, Kim and Bo Thanksgiving 2001
Bo was a very special member of our K-9 family. He is what you could call a real therapy dog. Bo never really cared much for the "show" seen, but he played a very special role in my daughter's life. He was Kim's constant shadow during a very dark time in her young life, and I know that Bo took with him more secrets than any other friend will ever know. We said goodbye to Bo at age 14 1/2+ but his presence will be felt here forever and I am sure he is waiting for Kim at "The Bridge."
Thank you Carolyn for the "spot on the nose" puppy and for providing Kim with a forever friend !
We miss you Bo-Bo

Black and White
Brown eyes
DOB 11-29-87                                                       
                                   CH. S-K-Mo's JP McMorgan
                    Christopher's Noatak 
                                   Tundra's Poca Mis-Chief 
               Sazi's Nootka  CD
                                   Frosti Sierra 
                    Miss Anasazi
                                   Diamond Stormy
  Lakamat's Kuzn Balki O' Karamad       
                                   CH. Sierra's Hawkeye 
                    Cynamen's Red Hawk
                                   CH Sierra's Cinnamon Sass
               J.B.'s Awesome Fantasy 
                                   CH Cynamen's Midnight Fantasy
                    Mishka's Blue Fantasy
                                   Echo of the Ocean Winds Tasha





Return to Top of page

Return to Portrait Studio

E-mail us!

Back to KARAMAD Siberians Home Page