AM/MEX/INT CH KARAMAD'S KEY LARGO - "BOGIE"

---

December 4, 1988 to November 8, 2001

| | |
| --- | --- |
| OFA # SH-8885G24M | SHOR# S-5791 |
What a face!!!
Like a fine wine, Bogie just got better with time. Bogie retired undefeated in the veteran class and had multiple breed wins as well. Bogie was the resident puppy sitter and loved his work. Bogie is also the face inside the Karamad logo. His sweet face and personality are a tribute to his namesake and grandsire CH Aadaks Here's Lookinatcha Kid. His wonderful approach to life will be sorely missed here. God speed my friend until we meet again at the Bridge.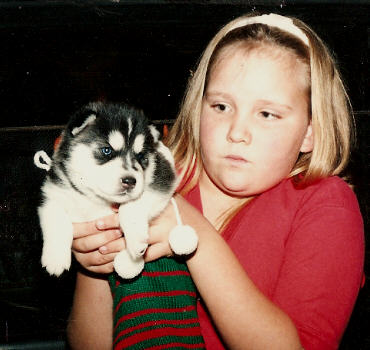 December 1988
Bogie and Kim


Good friends are hard to find,
But then they're easy to love!
Good friends are gifts that last forever
Like presents from above.
Good friends are one in a million,
They're always there to share...
They follow the path to your happiness,
And walk with you all the way there.
Good friends are hard to find,
But they're easy to adore,
And you've been such a good friend to me,
I could ask for nothing more!
Bogie . . . Thanks For Being
MY GOOD FRIEND!

Black and white Male
1 blue eye, one brown eye
DOB:  12-4-88   
                                CH. KONTOKI'S NATURAL SINNER 
                    CH. AADAK'S HERE'S LOOKINATCHA KID 
                                   CH. AADAK'S RHEANAN 
               BIS/BISS CH. NEECHEE'S SNOWFIRE DARKSHADOW CGC
                                   CH. PAX' GIH OF HOLOKAI 
                    CH. SNOWFIRE'S APRIL EDITION 
                                   CH. SNOWFIRE'S VIVA
 
  AM/INT/MEX CH. KARAMAD'S KEY LARGO 

                                   CH. QUIQUERN'S SILVER SHADOW 
                    AM/MEX CH. KARNOVANDA'S SILVER FOX 
                                   Karnovanda's Sybil Groznyi 
               Camber's Silvermist of Karamad CGC
                                   Miroskima's Nikolai CD
                    Cam of Miroskima 
                                   Narcissus Sasha 
 



Return to Top of page

Return to Portrait Studio

E-mail us!

Back to KARAMAD Siberians Home Page