CH CRAKARA'S KODIAK OF AMAHOK - "KODIAK"
---
December 6, 1989 to December 29, 2002
Bred by: Joe D McGill & W Jean McGill
Loved and missed by his friends and family at Karamad

May 1991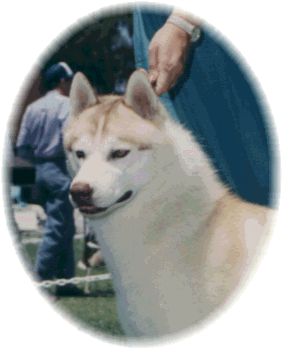 June 1991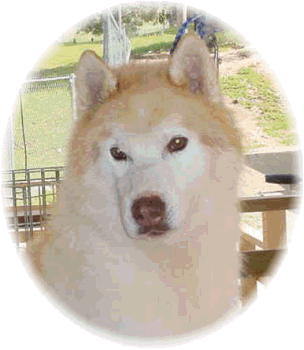 April 17, 2001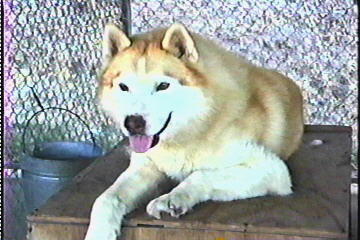 | | |
| --- | --- |
| OFA# SH9389E25M | SHOR# S-6107 |
Kodiak finished his championship at 21 months of age with 3 majors, always owner handled. His goal in life was to lick as many faces as possible, and guard the top of the dog house. His easy going nature made him a pleasure to live with.
Kodi left me on a morning while the air was brisk and sun was bright and warm. I thought he was only sleeping but in reality he was already wearing the silver harness and running beyond the Rainbow Bridge. My gentle red boy was a friend to all and he is missed. But like those that have gone before him, I'm sure he is waiting at The Bridge.
I miss you Kod-man



When you wake up in the morning
Think about someone who cares...
When the sun shines in your window
Remember I'm always there!
When life isn't going just your way
You can count on me...
I'll be your friend until the end
Cause you're such a great friend to ME!

Red & white male
Amber eyes
DOB:  12-6-89                    

                                   CH. KAILA'S BEAU BLEU OF RUSOJHN
			Kaila's Genuine Bleu
                                   Marlytuk's Sunsiray
               CH. REFLECTION'S BLEU PERSUASION 
                                   CH. CYNAMENS MIDNIGHT FANTASY 
                   	 CH. REFLECTIONS SPLIT IMAGE 
                                   CH. TAMERLANE'S BONFIRE 

  CH. CRAKARA'S KODIAK OF AMAHOK 

                                   AM/CAN CH. INNISFREE'S RED ROADSTER CD
                    Innisfree's Knave O'Tamerlane 
                                   CH. INNISFREE'S MARAKESH 
               Amahok's Cherokee Star 
                                   CH. INNISFREE'S TORCH O'TAMERLANE 
                    Amahok's Nikki O'Tamerlane 
                                   Innisfree's Vixen O Tamerlane CD
 



Return to Top of page

Return to Portrait Studio

E-mail us!

Back to KARAMAD Siberians Home Page