CH Karamad's Life Is a Journey - "Vida"
September 14, 2003 ~~ September 15, 2014
---

Bred by Sherri Del Pozo & Nancy Sumida
Lived with The Rolland Family

2013
Vida moved to San Jose to live with the Rolland Family. They were previously owned by Vida's grandfather Ryker. Vida spent her final years with her buddy Sparky and the loving companionship of her girl Yana.
Her sweet kind nature will be missed.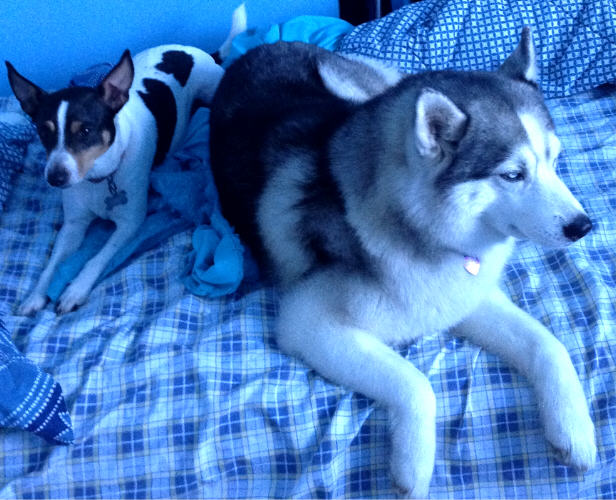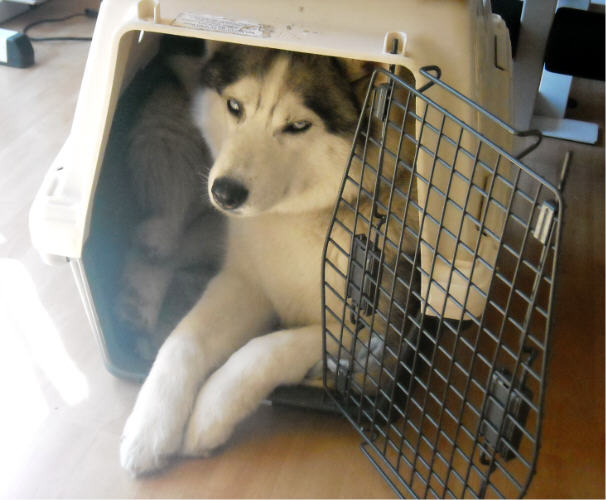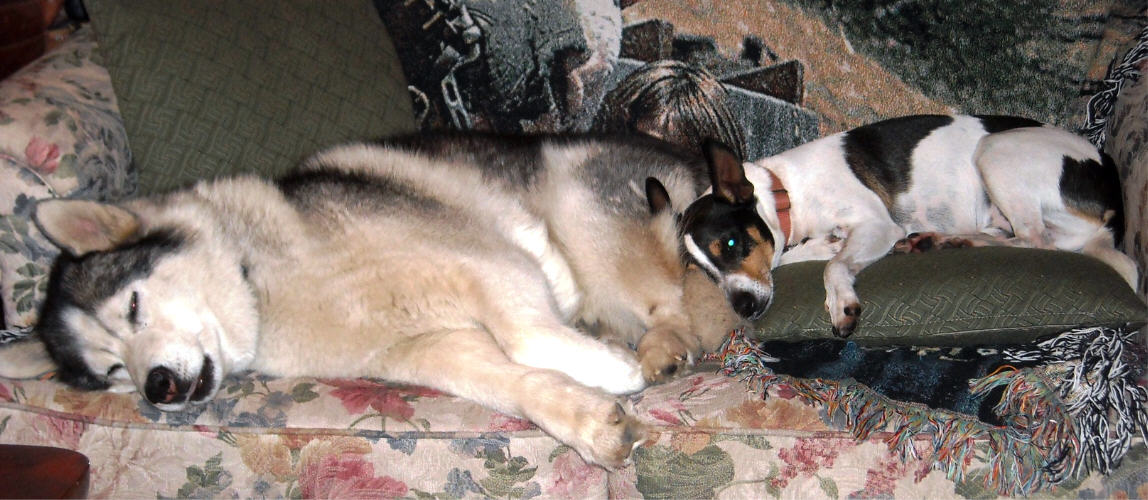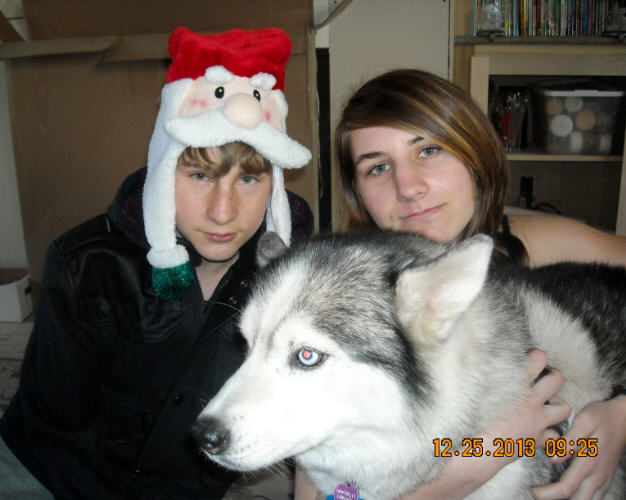 8-21-10 Vida returned to Karamad after living the past 6 1/2 years with he co-owner. She has made herself right at home and we could not be happier to have her back.
Vida is currently being shown in Veterans and is doing well.

5-26-11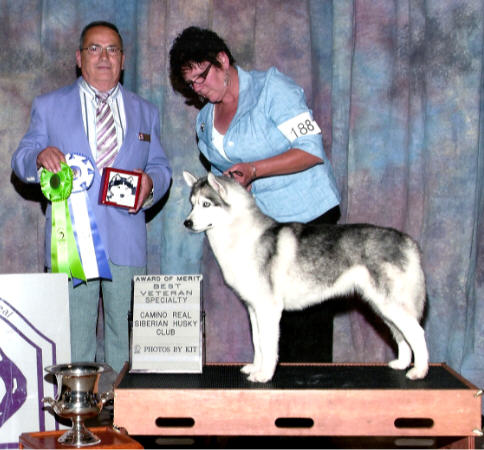 Vida is awarded Best Veteran and an Award of Merit under breeder judge Mr. Frank Polimeni

Vida has made her way back to the show ring as a veteran. She has been shown 4 times and has two BOS and 2 BOB and a Vet. group 3. She is having a grand time.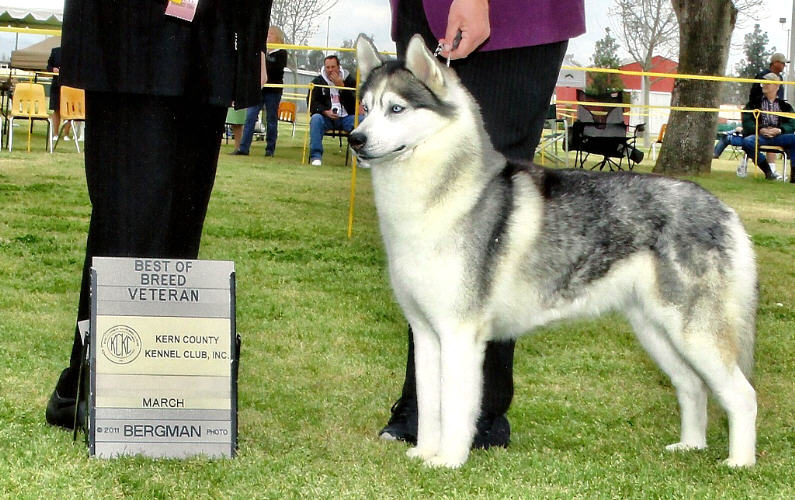 3-26-11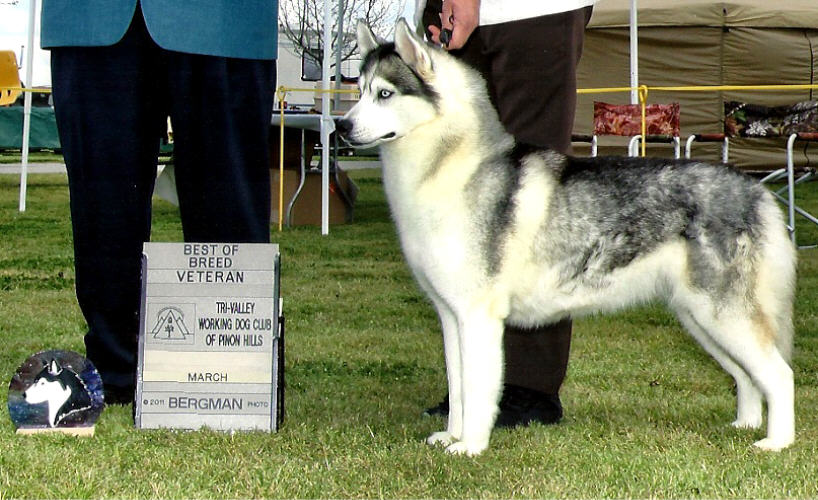 3-25-11

Vida is a real sweetheart. She looks very much like her mother Journey. Vida proved herself to be quite at home in the show ring.
10-8-06 WB for a 4 pt major to finish.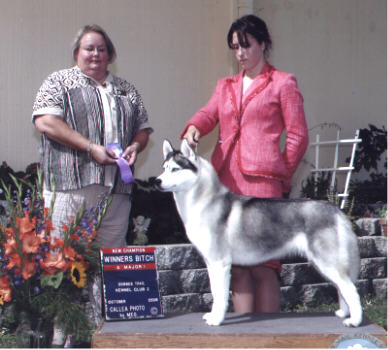 Special thanks to Judge Donna Beckman for finishing our girl.
Shown by Lauren House

Vida was WB/BOS for a major 9-30-06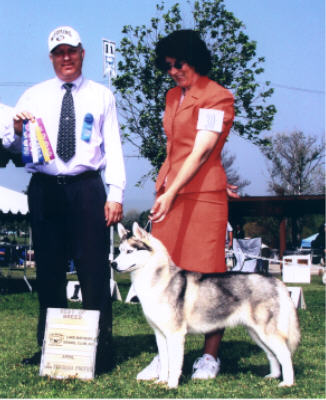 4-30-06 Best of Breed from the classes.
presented here by Barbara House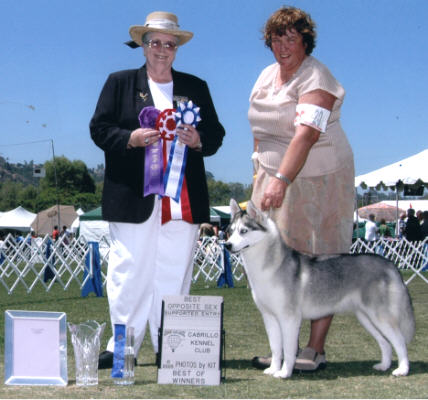 Vida was WB/BOW/BOS for her first point 5-12-05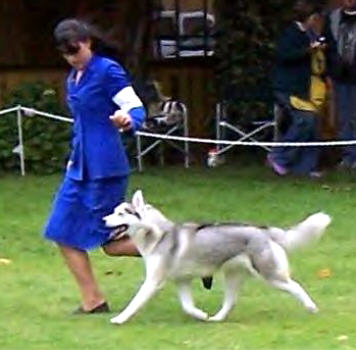 Vida on the move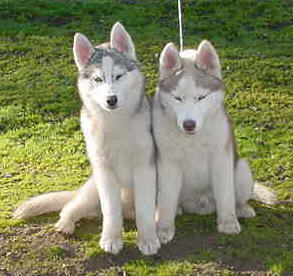 Vida and brother Koda 1-29-04
| | |
| --- | --- |
| OFA:S-16023G34G-PI | SHOR: S-10791/10 |


Gray & white female
Blue eyes
DOB: 9-14-03

                    				BIS/BISS CH. NEE-CHEE'S SNOWFIRE DARKSHADOW CGC 
               					CH. KARAMAD'S  REDD RYDER
                   	 				CH. AMAHOK'S KINDRED SPIRIT
				CH. KARAMAD'S SUMIRO BEARHEART  
      	
                   		 			CH REFLECTIONS BLEU PERSUASION
               					CH KARAMAD'S LADY IN BLEU
                    					CH KARAMAD'S LEADING LADY

		CH Karamad's Life Is a Journey

                    					CH. AADAK'S HERE'S LOOKINATCHA KID 
              		 			BIS/BISS CH. NEE-CHEE'S SNOWFIRE DARKSHADOW CGC
                    					CH. SNOWFIRE'S APRIL EDITION 
				CH KARAMAD'S SENTIMENTAL JOURNEY          
                    					AM/CAN CH. AMAHOK'S STAR TREKKER 
             		  			CH. AMAHOK'S KINDRED SPIRIT 
                    					Reflection's Fresh Start



9-14