Ch. Syntari's Diamonds Are Forever - "Tiffany"
---
Co-owned and Co-Bred with Jamesa Maulden Syntari Siberians and Sherri Del Pozo, Karamad Siberians

DOB: 2/1/2003 - Gray/white, female, bi-eyed

Image is happily retired and living the good life with Betty. Thank you for providing our girl with such a great retirement home.
THANK YOU Nancy Sumida for showing Tiffany to that final win for her Championship, March 2007!!!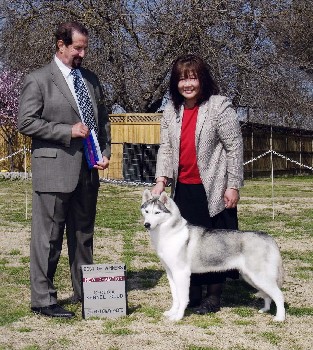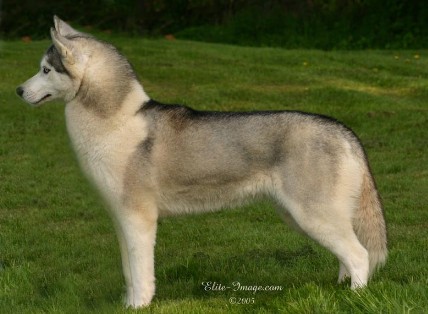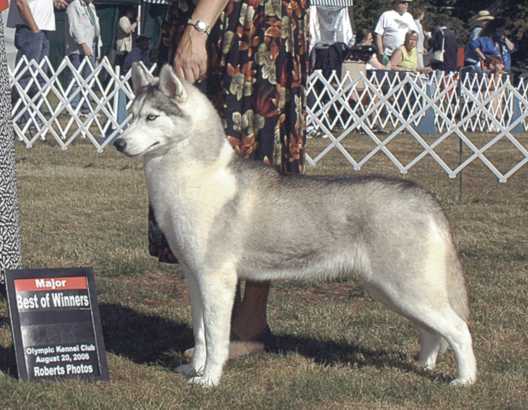 ---
Return to 


								CH. KARNOVANDA'S BORN ON THE FOURTH 
                   				 CH. KARNOVANDA'S GREY SPIRIT 
                                   						Karnovanda's Amyre 
              			 CH. CHRISDON'S DISTANT THUNDER 
                                  						 CH. CHRISDON'S SILHOUETTE JETSON 
                   				 CH. CHRISDON'S AMALIA 
                                   						 Chrisdon's Viclin  Katie Didit 
	  CH. SYNTARI'S DIAMONDS ARE FOREVER    
	                                       					 CH. KARAMAD'S REDD RYDER 
                    				CH. KARAMAD'S SUMIRO BEARHEART 
                                   						 CH. KARAMAD'S LADY IN BLEU 
               			CH. SYNTARI'S KARAMAD DIAMOND
                                  						 CH. SYNTARI'S MR. GOODBAR
                    				CH. SYNTARI'S TRICK OR TREAT 
                                   						 CH. SYNTARI'S SASHA DIAMOND 




Return to


Return to portrait studio