CH SYNTARI'S TRICK OR TREAT - "Tricks"
October 31, 1995 to May 24, 2005
---
Bred by Jamesa Maulden - Syntari

Owned by Jamesa Maulden and Sherri Del Pozo
Tricks retired to sunny California. Her easy going approach to life made her a pleasure to live with and quickly earned her a permanent place on my bed. Tricks proved herself to be a great mother producing two national specialty winners as well as other wonderful offspring. She is missed by her friends at Karamad.
Sleep well my friend until we meet again.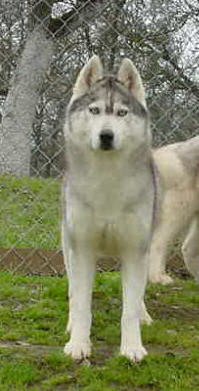 The California girl ~ 2004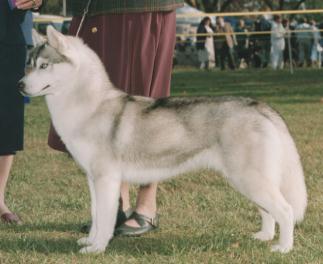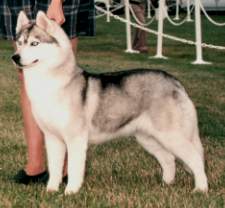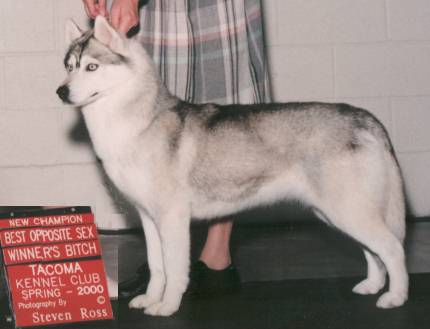 | | | |
| --- | --- | --- |
| Thyroid tested normal | OFA: SH-12749E31F | SHOR: S-7305 |

Dam of:

From: CH Karamad's Sumiro Bearheart

CH Karamad's Bearhugs - Koala

CH Syntari's Karamad Diamond - Jamie ~ WB/BOW/Best Bred By Exhibitor ~ 2001 SHCA National Kerhonkson, NY

From : CH Seeonee's Vanishing Act

CH Syntari's Tricks of the Trade - Trader ~ WD/BOW/Best Bred By AND Award of Merit ~ 2003 SHCA National Portland, OR

CH Seeonee's Syntari Alliance - Ally

AM/Can CH Syntari's Cashin' In Am/Can CD, Am/Can RN - Cash Owned and loved by Gloria Meier

From: CH RainyNights Debut of Syntari

Karamad's Back to the Future - Cha-Cha

From CH Karamad's Redd Ryder

Karamad's Sumiro Trick Ryder - Rodeo

Syntari's Trick Shot - Smudge


CH. LEGACY OF INNISFREE
CH. KONTOKI'S DENNIS THE MENACE
CH. INNISFREE'S FEATHERED RAIN
CH. SYNTARI'S MR. GOODBAR
CH. ARCTICREST NATURAL RHYTHM
CH. HUSKAVARNA'S MINIMUM WAGE CDX
CH. KONTOKI'S PICK-UP ARTIST
Ch. Syntari's Trick Or Treat
Grey/white, blue eyes
AM/CAN CH. SAHARA'S SNOWDANCER
AM/CAN CH. RAINYNIGHTS DEBUT OF SYNTARI
Bldiask's Prime Time Toots
CH. SYNTARI'S SASHA DIAMOND
CH. KAILA'S BEAU BLEU OF RUSOJHN
Wolfstars Shamyr O Sahara
Kenosha Kai of Alpenglow


Return to Portrait Studio